Every cake I make is unique and tailored to individual requirements.
The pictures below are examples my work in order to give you an idea of what I can do. Please email me to discuss your requirements.
Black Forest Gâteau (Schwarzwälder Kirschtorte)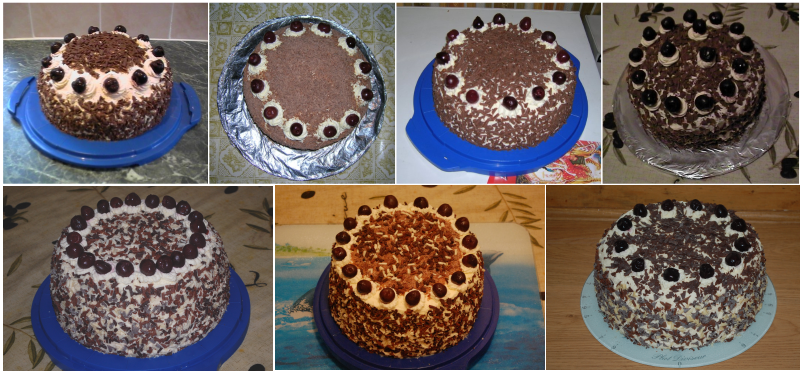 One of my favourite treats. Multiple layers of soft chocolate sponge infused with cherry liqueur covered with fresh whipped cream, chocolate flakes and sweet black cherries. Available in various shapes and sizes.
Butterfly Cake

A beautiful butterfly-shaped cake for a girl's birthday. Chocolate sponge decorated with rose pink and turquoise buttercream.
Easter Cakes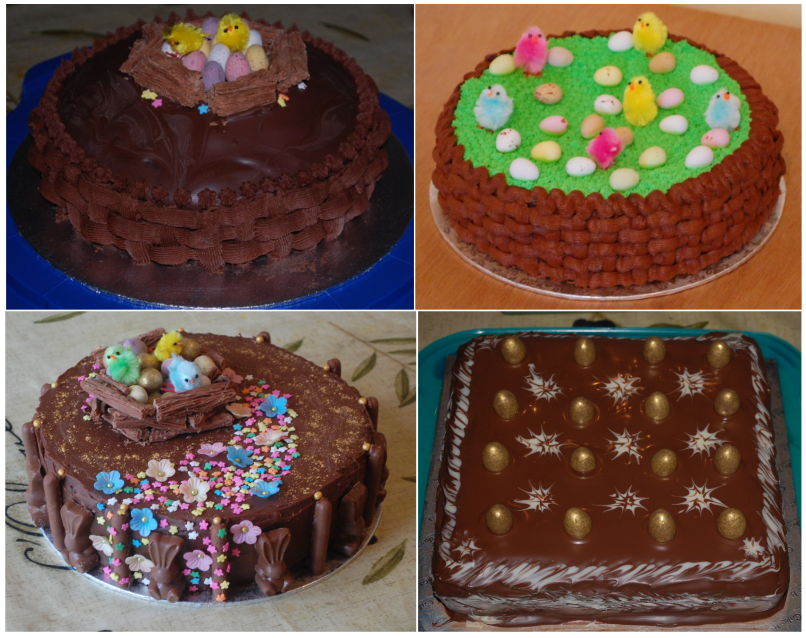 These are both based on a 9-inch chocolate sponge cakes with chocolate buttercream basketweave on the sides.
The cake on the left is covered with milk chocolate and topped with a nest of Cadburys flake.
The other is topped with a grassy green buttercream and decorated with mini eggs and fluffy easter chicks.
Octonauts Cakes


A perfect birthday cake for any young octonauts fan. The cakes on either side are 9 inch round chocolate cakes covered with fondant icing depicting Captain Barnacles or Kwazii and the GUP-B or any other design you want.

The picture in the centre is an enormous 3-dimensional Octopod cake weighing several kilos. This was a huge project involving a custom made stand of wood, plastic and copper pipe. The main body of the Octopod is made up of three 9 inch chocolate sponge cakes, carved to shape, while each of the 4 arms contains a chocolate muffin. The entire cake is covered in fondant icing and decorated with small plastic sea creatures

Fresh Fruit Cake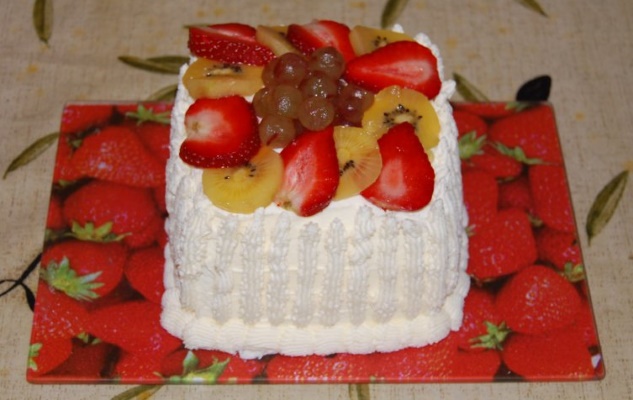 An indulgent dessert for a summer's day. This small 5-inch square cake is made from light fluffy eggless sponge covered with fresh whipped cream and topped with fresh grapes, strawberries and kiwi fruit.
In The Night Garden Cake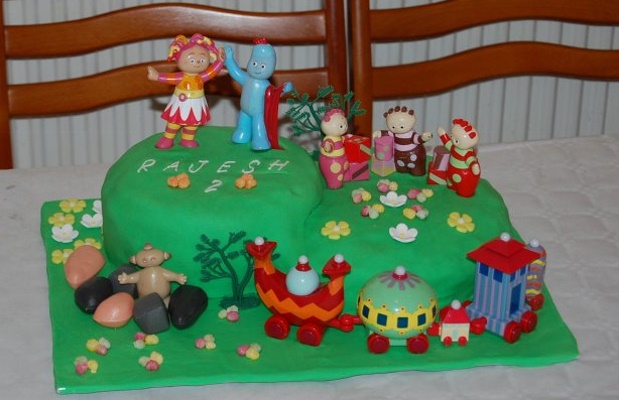 Inspired by every toddler's favourite TV show. A chocolate cake and a vanilla cake, covered with green fondant and edible flower decorations. Igglepiggle and Upsy daisy dance on the larger cake while Macca Pacca arranges his stones and the Tombliboos wave at the Ninky Nonk.
Subaru Alcyone SVX Cakes


The cake the right started out as a rectangle cake before being carved into the shape of a Subaru Alcyone SVX sports car and then covered in fondant icing. The headlights were made of vegetarian jelly sweets with bright white LEDs behind them powered by concealed wires leading to an external power suppy.
The cake on the left is an 8-inch square chocolate cake covered with fondant icing depicting an SVX. The sides are decorated with chocolate stars.
Moshi Monsters Cake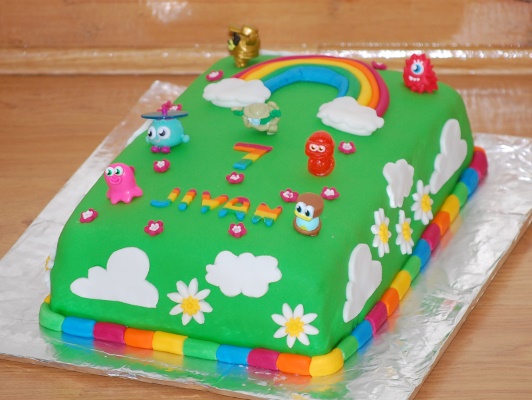 This is one of my large rectangle cakes, made with eggless vanilla sponge, filled with buttercream and strawberry jam then decorated with fondant icing.
---